Panama Vacation Activities
The Republic of Panama is fast becoming one of the top exotic vacation destinations in the world. There are endless opportunities available to explore this culturally rich heritage and landscape. The quality of the roads and highway system throughout Panama provide ease of transportation and the ability to safely explore this magnificent Central American culture. Many of our visitors who travel through other parts of Central America, such as Costa Rica, proclaim the Republic of Panama to have the best highway infrastructure and highest quality roads of all Latin American countries.


Imagine taking a horseback ride into the sunset of Panama over looking the backdrop of Costa Rica! Have your horse brought up to your private pool at your Panama Oceanfront villa or condo. Once you start riding you will be really getting back to nature. There is no other location in the world that is this beautiful...

More

---

We are thrilled to present to you "ORLE" your personal CHEF while here at the Las Olas Villa. Having a terrific meal prepared for you by a local chef is one of the best ways to enjoy your vacation. While you are relaxing by the pool or after taking a long Ocean Front walk on the beaches of La Barqueta, ORLE is available to prepare your meal for you...

More

---

---

---

Take the Mangrove Tour at Playa La Barqueta. This is one of the largest Mangrove systems in Panama. This system is located directly in front of the Mangrove and Elaine is available to take you on a guided tour. Set up an appointment with her to make sure you are able to see this ecological wonderland...

More

---

Are you are thinking about coming to the Republic of Panama to do something different? Not just that same old vacation, but something the whole family will remember for a lifetime. You have come to the right place to plan your Panama Adventure Vacations...

More

---

You have just found the most talked about off-road family adventures in Panama, the Boquete Safari Yellow Jeep Tour is the premier "must-do" tour in the Mountains of Boquete. Many exciting adventures await you on the spectacular Volcan Baru Hike, Wildlife Safari, Quetzal Trail or Caldera Hot Springs and horseback riding tours...

More

---

Wake up in the morning and start your day with a relaxing beachfront massage. Let your soul relax and listen to the pounding waves of the Pacific right in your back yard while you enjoy the best massage of your life...

More

---

One of the "MUST" things to do while you visit Panama is to stop by the Panama Canal in Panama City. This historic place is both entertaining and educational. If you are flying through Panama City, you may have time to stop at the canal...

More

---

On site at Playa La Barqueta is a Turtle preservation. A local advocate for the turtles, Marciel, has taken it upon himself to help and protect the local turtles from poachers and natural predators...

More

---

Isla Paridita, "The Lost Island of Baru", is an all-inclusive Private island hideaway in the Golfo de Chiriqui National Marine Park of PANAMA. Spend the day relaxing on the Island and touring all it has to offer...

More

---

Eating at the local restaurant and bar is one of the best ways to experience what Panama has to offer. Casual and open air is the best way to describe LA COSTENA...

More

---

Having a giant bon fire on the beach at night is one of the most relaxing things you can do in life! After a long day of walking the endless beaches of Playa La Barqueta and swimming in the pool at the villa, be sure to take some drinks out to the beach for an evening bon fire! This is a must do on your visit to the Las Olas Villa...

More

---

If you are interested in Panama and Big Game Fishing then you have come to the right place. This site will provide you with information on one of the worlds best kept sportfishing secrets. Here on the Pacific Coast of Panama, the Golfo de Chiriqui offers some of the best sportfishing opportunities in the world..

More

---

The province of Chiriqui in Republic de Panama has some fantastic scuba diving. Divers will find plenty of everything in Panama's Pacific waters, from sharks, whales, dolphins, black marlin and turtles to volcanic formations. PADI Dive-master Carlos Spragge, who has many years of experience diving in the Gulf of Chiriqui has opened a new scuba diving operation, The M/V "Miss Bess" operates throughout the gulf for cruises from 1 to 7 days..

More

---

Welcome to Panama City Airport Hotels! Our goal is to provide a simple way to browse, shop, compare, and book hotels near Panama City securely online..

More

---

Imagine catching black marlin or blue marlin, pacific sailfish, giant yellowfin tuna, wahoo, mahi mahi, jacks, roosterfish, cubera snapper....possibly all during the same fishing charter. Sometimes, more than one fish will hook up at the same time. Ok - it's not such a bad fishing day when this happens..

More

There are endless opportunities available to explore this culturally rich land. Panama is most known for the Panama Canal in Panama City, Panama. The Panama Canal is a man-made canal that connects the Atlantic Ocean and Pacific Ocean. The canal is one of the largest engineering projects ever undertaken.

Panama offers unique vacations opportunities and a Panama Adventure Vacations are just a few clicks away. Check out our growing list of fantastic adventures that awaits your vacation of a lifetime in Panama.

These Panama Adventure Vacations activities are waiting for you! Explore Panama and you will see why many are falling in love with this exotic vacation destination. Come, relax and enjoy the beauty of Panama! This way of life will give you a whole new outlook on your life! Its time to book that Panama Vacation today!

All of these activities are either at your front door or only a short drive away. You can have horses brought to your home for an evening ride, watching the sunset.

This way of life will give you a whole new out look on life! Enjoy it!
Ziplining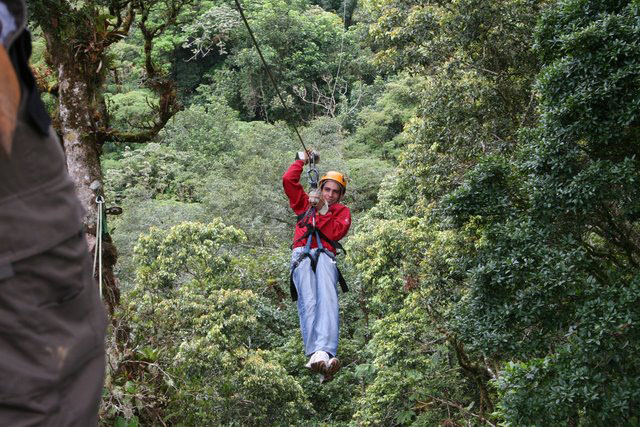 Zip thru the canopy in the rain forest of Panama. Located in Boquete, Panama, just about one hour from Las Olas Resort and the Panama Vacation Rentals, this is adventure you will not want to miss..
More
More Activities
The list is literally endless of things to do. But here are a few:
Swimming in the ocean
Sightseeing
All kinds of fishing, deep sea, island, river
Watch the sunset or sun rise on the other coast
Have a wedding on the beach
Boating
Tour the volcano
Jungle and Rain forest tours
Tour the Panama Canal